25 Best Records of 2006!!!
Im not much of a list person. In fact, thats why I keep this blog going, as its an unordered list of things I adore. But seeing as many of my peers have gone the lengths to make a list, I figured it would be a fun way to wrap up the year. Only problem is most of the best stuff I heard this year was from last year or years before. All that aside, my system for this list relied on a number of disparate points. For instance, was the Cold War Kids actually better than Boris? I listened to the Kids far more than any other band on the list, but Boris excited me in other ways, prompting a full submersion in their exisiting catalog and a whole world of doom which drew me away from listening to Pink repeatedly. So Boris' admission to #3 was based more on the influence they extended to my listening as opposed to how much I listened to that particular album. Whereas Gifts From Enola was something I heard in the last month of the year, but listened to religiously for weeks. But does that make it better than Red Sparowes, who at the time had a very similar effect on me? Two things I know for sure are the band I listened to the most this year was the Cold War Kids, and other than that, my list is not so much concerned with order, as I have already changed my mind more than once on the order of things. I finally just let it go as is. To me, these are the best records that cam out in 2006. Enjoy.
1.
Cold War Kids - Robbers & Cowards
Genre: Indie Rock
For Fans Of: Modest Mouse, Velvet Underground, Rolling Stones
These guys began as a blog favorite based on one song, Hospital Beds, and that song, while great in all its sweeping glory, was only one facet of this talented band. Hang Me Up To Dry, Saint John, Tell Me In The Morning all proved that the Kids could rock. This is straight up rock and roll.
2.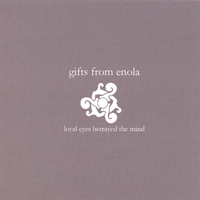 Gifts From Enola - Loyal Eyes Betrayed the Mind
Genre: Instrumental/ Post-Rock
For Fans Of: Explosions in the Sky, Mogwai, Isis, Pelican
A late entry into the books, but this album overtook me. The beauty of some of these tracks, from their ambience, to all their crashing bombast had me hooked and listening to this over and over. Plus the band recorded and released the whole thing DIY and it sounds amazing!
3.
Boris - Pink
Genre: Punk/ Stoner/ Doom
For Fans Of: Boris, Electric Wizard, Motorhead
Boris was the most exciting thing to happen to my metal music tastes since Converge arrived on the scene in the mid 90's. Granted each of their albums has a different flavor, spanning post rock, doom, ambient, drone, and thrash and punk, but this album alone comprises many of the styles that the Japanese trio have perfected in their decade long existence. They are also the loudest band I have ever heard.
4.
Six Organs of Admittance - Sun Awakens
Genre: Psych-Folk, Drone, Raga
For Fans Of: Espers, Vetiver, Feathers
Ben Chasneys Psych-Drone masterpiece. His best album yet on all counts.
5.
Snowden - Anti-Anti
Genre: Post-Punk, Rock
For Fans Of: Interpol, Bloc Party, Q and Not U
Danceable post-punk with some icy cold bass, solid drumming and some good slacker swagger.
6.
Red Sparowes - Every Red Heart Shines Towards the Red Sun
Genre: Instrumental, Post-Rock
For Fans Of: Isis, Neurosis, Godspeed You! Black Emperor, Pelican
Amazing, expansive instrumental rock. This album travels far distances.
7.
Figurines - Skeleton
Genre: Indie Rock
For Fans Of: Built To Spill, Modest Mouse, Tapes 'n Tapes
Feel good, fast paced rock with a heavy early Built to Spill vibe. It sounds so youthful and honest.
8.
Tapes 'n Tapes - The Loon
Genre: Indie Rock
For Fans Of: Pixies, Pavement, Modest Mouse, Wolf Parade
The Pixies comparisons are inevitable, but besides from being influenced from such a great band, the Tapes have injected much of their own fun, quirky personality in their songs. Cowbell is a burner and Omaha is bliss.
9.
Yndi Halda - Enjoy Eternal Bliss
Genre: Instrumental, Post-Rock
For Fans Of: Godspeed You! Black Emperor, Explosions in the Sky
With only three songs to show so far, this young band has shown they still have much to give to music world. These songs absolutely burst with agony and ecstasy.
10.
Comets on Fire - Avatar
Genre: Rock and Roll, Psychedelic
For Fans Of: I wouldve said MC5, The Stooges, Hawkwind, but this album
is more Can, Amon Duul, Hawkwind.
Comets on Fire have given us another turn with Avatar, and while lacking the thrust of earlier works they still work within a similar experimental framwork that theyve always found success in. These songs positively drip with acid soul.
11.
TV on the Radio - Return to Cookie Mountain
Genre: Indie Rock, Post Rock, Electronic
For Fans Of: ? You tell me.
TV on the Radio officially defies description with their latest album. It combines so much of what makes so many different genres of music so good and would require too many disparate comparisons to make any sense.
12.
Mammatus - s/t
Genre: Stoner, Psychedelic, Rock
For Fans Of: Om, Sleep, Boris, Goatsnake
A swirling psychedelic trip to a time with dragons and wizards. How can you pass up an offer like that? Seriously.
13.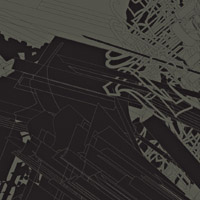 Boris - Dronevil - Final -
Genre: Post-Rock, Instrumental, Stoner, Doom
For Fans Of: Sunn 0))), Earth, Boris
How fitting that this disgustingly huge, dark slab gets to be #13. Boris have delivered tons of trance like doom and ambience for Dronevil. A bit of a commitment if you wish to reap the benefits, but wholly worth it.
14.
Destroyer - Destroyer's Rubies
Genre: Indie Rock, Folk, Psychedelic
For Fans Of: Bowie, Dylan, Donovan, New Pornographers
Destroyers Rubies reminds me of my childhood on a number of occasions. Probably 'cause I stole all my parents classic rock records. Rubies is warm and fuzzy just like Dan Bejar's beard. Absolutely beautiful instrumentation.
15.
Mouth of the Architect - The Ties That Blind
Genre: Doom, Post-Rock
For Fans Of: Isis, Neurosis
A seriously huge monument to astrally projected Doom metal. Heavy and devastating whilst also drifting and cerebral.
16.
Colour Haze - Tempel
Genre: Stoner, Psychedelic, Rock and Roll
For Fans Of: Can, Amon Duul, Kyuss, Orange Goblin
Expert guitar playing, dubby yet driving rythms and solid vocals evoke all your favorite classic rock gods. These songs can burn though as they crank up the volume and distortion and deliver the goods.
17.
Annuals - Be He Me
Genre: Indie Rock
For Fans Of: Broken Social Scene, Arcade Fire, The Shins
A finely crafted pop record, written by a guy who cant even legally drink. Keep your eyes peeled for the Annuals. If they stay true to their name, we shoud have beauty every year from them.
18.
Gregor Samsa - 55:12
Genre: Post-Rock, Shoegaze, Slow
For Fans Of: Low, Sigur Ros, Mogwai
Dark and Beautiful sweeping melodies for only the cold and lonely. This is a haunting record of expansive emotions.
19.
Converge - No Heroes
Genre: Agressive Music, Metal, Death Metal, Thrash, Punk
For Fans Of: Dillinger Escape Plan, Mastodon, Today is the Day, Slayer
Another destructive, nihilistic record from my heroes of both the Hardcore and Metal scenes. Even though they are practically neither at this point in time.
20.
Joe Lally - There to Here
Genre: Post-Punk, Indie Rock
For Fans Of: Fugazi, The Evens, Dischord Records
Joe Lally shows how valuable his work with Fugazi has always been. Dark, groovy, haunting tunes.
21.
Om - Conference of the Birds
Genre: Stoner, Doom
For Fans Of: Sleep, Mammatus, Black Sabbath
A heady droning trip of transcendental proportions. Conference of the Birds is a mantra. Repeat with eyes closed until nirvana is achieved.
22.
Sufjan Stevens - The Avalanche
Genre: Folk, Experimental
For Fans Of: Cat Stevens, The Microphones, Devendra Banhart
A collection of outtakes from one of my favorite albums of last year. There is just no denying this mans talent. He couldve released five more albums and they still would sound good. Oh wait, he did. The five disc X-mas album. Genius.
23.
The Evens - Get Evens
Genre: Post-Punk, Indie Rock, Folk, Dischord
For Fans Of: Fugazi, Dischord Records
Where would we be without Ian Mackaye. Probably listening to whatever the man tell us to.
24.
Isis - In the Absence of Truth
Genre: Doom Metal, Post-Rock, Stoner
For Fans Of: Isis, Boris, Red Sparowes, Neurosis, Mogwai
Theres no doubt that Isis has followed the Post-Rock path since Oceanic, and while this isnt their best release, it is another testament to their collective strength as pioneering force in metal.
25.
The North Sea & Rameses III - Night Of The Ankou
Genre: Psych, Drone, Ambient, Folk
For Fans Of: Space, The Universe, and Everything in it.
This is what the sound of the universe is, a steady hum of life, echoing deep within the subconcsious and throughout, punctuated at times with what sound like snippets of radio broadcasts of life from earth and transmitted light years away to other sentient galaxies. It is a soundtrack for life.