Gifts From Enola - Loyal Eyes Betrayed the Mind (2006)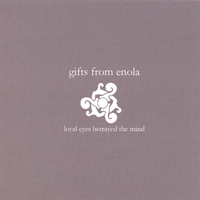 I probably didnt make it clear enough the first time around...
This is one of the best instrumental post rock albums I have heard all year
...and trust me, Ive heard some really good ones....There is a good chance that this will top my lists in a few weeks when the year comes to a close....
Each and every song is great. They give me chills and I feel like yelling out "YEAH!" when they play certain parts...They inspire excited feelings and energy. I will definitely make a point to see them live at the first chance I get, so I can whoop and yell "Yeah!" at all of those amazing moments.
PS. Sorry for the shitty artwork. You can purchase the album off of iTunes music store for a reasonable $8.91....Trust me, it will be the best $8.91 you have spent all year...and they give you really good full size artwork on iTunes...Though I can imagine you could purchase the record from the band as well...
Review from Silent Ballet
"One of the many great things about Loyal Eyes Betrayed The Mind is that no two tracks sound the same, and over the course of forty seven minutes you're treated to many delights, with no song making me reach for the fast-forward button. It's heavy in all the right places, but never too heavy, and Gifts From Enola mix moments of ambience really well, especially at the start of "Miles Of White" and "Memoranda." And when I say the album is heavy, it never ventures down the route of endless chugging riffs a la Isis and Pelican (two clear influences of the band), but instead Gifts From Enola develop intricate riffs, layered over a lead melody, to create something enjoyable each time. Gifts From Enola will fall under the umbrella of post-rock, but they are in no way confined to this genre, as they seem so adept at bringing others into the mix. There's metal, rock, math-rock, jazz, and ambience all thrown together here, and it alludes to something quite wonderful. When the end of year polls come around, this album will feature highly in my list, and if there are any albums better than this, I can't wait to hear them. Loyal Eyes Betrayed The Mind truly is a gift for all.
-James Ould (Taken from the
Silent Ballet
)
Gifts From Enola's Myspace